Device Control Panel
Device Control Panel
"Device Control Panel" is shown as floating window on color correction screen and used for metadata watching and camera control.
This windows position and size are controllable and remember the last position.To show this panel, you have to select "Device Control Panel" on the device information dialog. Here is the procedure to show this panel.
The available functions are different from device to device.
| | | |
| --- | --- | --- |
| Maker | Type | Available Functions |
| WOWOW | IS-miniX | Metadata table, OSD output |
| Panasonic | Varicam | REC control, Camera parameter control, metadata table |
| ARRI | Alexa SX/T, AlexaMINI, Amira | REC control, Camera parameter control, metadata table |
| FSI | BoxIO | Metadata table |
①
Buttons
"Watching" button selection enables metadata continuous watching.By un-selecting the button, metadata watching will be stopped temporally.
"Device Setting" button click triggers to show device setting dialog.
②
Device Name and REC button
Device Name is shown on this area and REC button appears for supported devices.
③
Camera Control
These control will be shown for supported camera. Exposure related parameters can be set.
④
Metadata Table
Device Control Widget is continuously getting metadata from the camera. Selected metadata item can be shown on the table. For IS-mini, it can show the metadata value as OSD on output signal when watching metadata changes. To add the metadata to watch, double click the blank item area and select item from the menu list.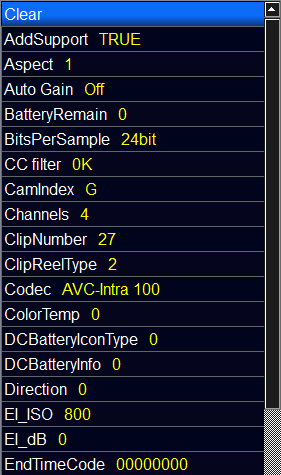 Above image is the example of metadata selection menu shown by double clicking the item name area of the table. White character is the name of the item and yellow character is the corresponding data obtained latest.
"Clear" menu on the top is to clear the current metadata item.